| | | | |
| --- | --- | --- | --- |
| Is Your Teen Talking About Depression Online? | | | |
Monday, 30 March 2015
It's no surprise to hear that teens and young adults spend a lot of time communicating with their friends through social media. But you may be surprised to hear that 25% of them talk about their depression on social media.

Although personal mental illness has been seen as a taboo topic to discuss with peers, recent research on social media profiles has provided some evidence that the subject of one's depression is no longer off limits, at least as far as young adults are concerned in their online interactions.
| | | | |
| --- | --- | --- | --- |
| Developing a Coping Plan in Advance Makes a Difference | | | |
Friday, 27 March 2015
Does how you cope with stress before it happens influence the way you feel afterward?
When you know that a stressful event is coming, such as a big presentation at work or an interview, how do you cope? Whether you're a fantasizer who imagines the problem just going away on its own, or a pragmatic thinker who brainstorms steps to take to address the issue, these approaches do influence how you feel once the stressful event passes.
Friday, 20 March 2015
Have you had problems finding, using, or paying for mental healthcare? Have you had good experiences? Tell us!
Care for Your Mind educates people living with depression and bipolar disorder and their families and friends about issues in our mental healthcare system and efforts to make it better. Your story of interactions with clinicians, health insurance, hospitals, and others involved in mental healthcare is important!
| | | | |
| --- | --- | --- | --- |
| Emotional Support Matters! How You Can Help Someone with Stress and Depression | | | |
Thursday, 12 March 2015
Nearly everyone experiences stress, but not everyone knows that emotional support really helps people deal with it! In fact, people who don't have emotional support from family and friends report increases in stress and feelings of sadness or depression at a much higher rate than those with emotional support.
| | | | |
| --- | --- | --- | --- |
| Book Review: My Living Will by John Trautwein | | | |
Wednesday, 25 February 2015
On October 15, 2010, 15-year-old Will Trautwein took his life. Will was a good student, an athlete, a musician, and an incredibly loved brother, son, grandson, nephew, and friend. His family and friends were shocked by his death, as there did not appear to be any signs that he was struggling with anything like anxiety, depression or thoughts of suicide.
| | | | |
| --- | --- | --- | --- |
| Job Opening: Executive Director, Families for Depression Awareness | | | |
Wednesday, 18 February 2015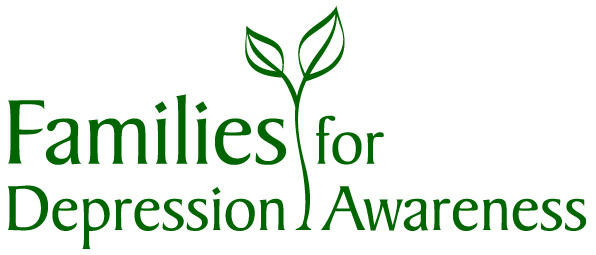 Families for Depression Awareness is seeking a visionary, dynamic, collaborative leader who can lead the organization internally and can interact with donors, other organizations, and the media to achieve the FFDA goals and objectives.
Reports to the Board Chair and Board of Directors
Location: 395 Totten Pond Road, Suite 404, Waltham, MA 02451
Job Summary
The Executive Director is accountable for the strategic and operational success of Families for Depression Awareness by leading the organization, including the staff, board of directors, advisory board, and volunteers to achieve its mission.
| | | | |
| --- | --- | --- | --- |
| Trying to Help a Loved One with Depression: Gail's Story | | | |
Friday, 30 January 2015
I would like to share my story about my ex-husband Lothar to help others recognize the symptoms of depression that our family lived with. My goal is to help erase the stigma of depression and eliminate the feeling of being alone that often affects the family members of those who suffer from depression.
| | | | |
| --- | --- | --- | --- |
| Offering Hope to Transgender People | | | |
Thursday, 29 January 2015
As someone who identifies as gender neutral and continually struggles with living in a body that I do not necessarily feel linked to, I could not help but see my own story reflected in the story of Leelah Alcorn, a transgender youth whose life was recently lost to suicide.
| | | | |
| --- | --- | --- | --- |
| Meet the New Interim Co-Executive Directors | | | |
Wednesday, 28 January 2015
Valerie Cordero and Susan Weinstein have been named interim co-executive directors of Families for Depression Awareness, succeeding founder Julie Totten, who recently left after nearly fourteen years at the helm. For two years prior to Julie's departure, the three worked closely as the senior management team.

"Having Valerie and Susan as interim leaders ensures that Families for Depression Awareness is in good hands and allows the Board to undertake a deliberate process to find the right person to be our next executive director," said Carol Thomas, chair of the board. "The Board is extraordinarily confident in their ability to continue expanding our programs and increasing our reach."
| | | | |
| --- | --- | --- | --- |
| Maybe Laughter Really Is the Best Medicine! | | | |
Monday, 26 January 2015
Researchers have recently begun studying the effectiveness of nitrous oxide, or laughing gas, in treating depression. Although many people who struggle with depression find relief from a combination of medication and therapy, there are some who still have a hard time finding wellness and may be suffering from what is often referred to as Treatment Resistant Depression. The prevalence of Treatment Resistant Depression has caused researchers to spend time seeking alternative, nonstandard options that may be more effective.