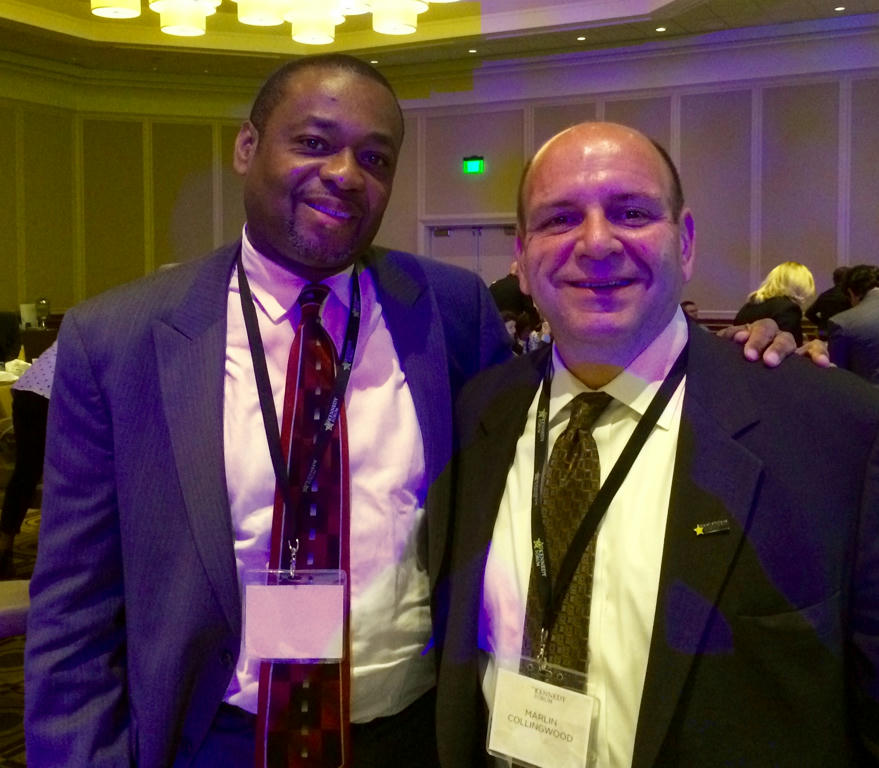 FFDA Executive Director Marlin Collingwood with Arthur C. Evans, Ph.D., Commissioner, Department of Health and Intellectual disAbility Services, Philadelphia
Families for Depression Awareness was again well represented at The Kennedy Forum conference, held on June 9th in Boston. Executive Director Marlin Collingwood and Director of Programs and Marketing Susan Weinstein engaged in learning, dialogue, and networking with policymakers, educators, researchers, advocates, business leaders, providers, and people with the lived experience of mental health and substance use disorders. The Kennedy Forum event sought to advance critical discussions about the science, practice, financing, and delivery of care and services. In addition, as conference attendees Marlin and Susan were able to participate in discussions examining the future of mental health in this nation and abroad.
The critical questions anchoring the conference were how do we improve access to care and how do we achieve better results from our systems of care.
On improving access to care, key strategies are to
fully implement mental health parity
adopt expanded service models, such as using primary care providers and peer support specialists.
Some of the possibilities for achieving better results include
using evidence-based practices
leveraging technology
devising methods for earlier intervention
utilizing models of coordinated care.
The conference featured plenary sessions and breakouts that brought together panelists representing divergent experiences and points of view. The sessions explored The Kennedy Forum's priority policy areas, including implementation of the parity law, integration and collaborative care, payment for outcomes, college and school behavioral health, technology as a transformative force in behavioral health, and brain fitness in cognitive enhancement and prevention of mental disorders. According to the conference, mental health is the nation's business and a global imperative.
Speakers included a wide variety of leaders in their fields, such as
Congressman Joseph P. Kennedy III (MA-4)
State Senator Edward M. Kennedy, Jr., Connecticut General Assembly
Tom Insel, MD, Director, National Institute of Mental Health
Nora Volkow, MD, Director, National Institute on Drug Abuse
Judge Steve Leifman, Associate Administrative Judge, Miami-Dade (FL) County Court
David Satcher, Director, Satcher Health Leadership Institute, 16th U.S. Surgeon General
Glenda Wrenn, MD, Director of Behavioral Health, The Satcher Health Leadership Institute
Patrick Courneya, MD, Executive Vice President and Chief Medical Officer, Kaiser Foundation Hospitals and Health Plan, Inc.
Sessions throughout the day highlighted these issues:
Ensuring Access to Care
Ensuring the full implementation and enforcement of the Mental Health Parity and Addiction Equity Act of 2008 (MHPAEA or Parity Act) depends in large part on health insurance plans (payers) complying with the letter and spirit of the law. Forum sessions highlighted the need to bring greater clarity and guidance to the parity law, promote transparency and accountability by providers and payors, and educate consumers about their rights.
Demanding Better Quality and Outcomes
Behavioral health providers severely lack the resources and tools to measure outcomes and service effectiveness. A range of stakeholders and experts in the field highlighted the need for identifying and advancing standardized clinical practices and evidence-based measurement tools to improve patient care and outcomes.
Increasing Access, Lowering Costs, and Delivering Better Outcomes
People living with mental illnesses and addiction often live shorter and sicker lives because of untreated and preventable chronic illnesses. Participants discussed ways of promoting innovative care models and better coordination of services to ensure that patients have access to the care they need.
Driving Collaboration to Create Better Results
Technology offers promising solutions for improving patient care and outcomes in behavioral health. According to experts at the conference, technology can help to seize opportunities that advance care coordination, expand workforce capacity, and accelerate treatment.
Developing New Ways to Provide Earlier Interventions
There is a clear gap in the tracking and translating of emerging scientific findings for the improvement of brain health. Much discussion focused on faster translation of neuroscience research findings into prevention and treatment interventions to improve the lives of individuals living with mental illness and addiction.
National Polling Results
As part its continued efforts to highlight the changes needed in mental health and addiction treatment, The Kennedy Forum commissioned public opinion research to set a baseline on how Americans feel mental health is treated in this country. Of those surveyed, 71% believe that the system needs "significant" or "radical" changes. Seventy-four percent had the opinion that physical health is "treated with more importance" in the healthcare system. Respondents also pointed to the need for greater research into the prevention and treatment of mental health conditions, as well as increasing quality and access of care.
If you want to learn more, download The Kennedy Forum's position papers.
Families for Depression Awareness will continue to follow and participate in the work of the Kennedy Forum in the coming months. We are eager to see The Kennedy Forum's State of the Union in Mental Health and Addiction, expected in February 2016. We'll share the results with you as we continue our efforts in mental health care reform.
​