Families for Depression Awareness at The Kennedy Forum
Wednesday, 23 October 2013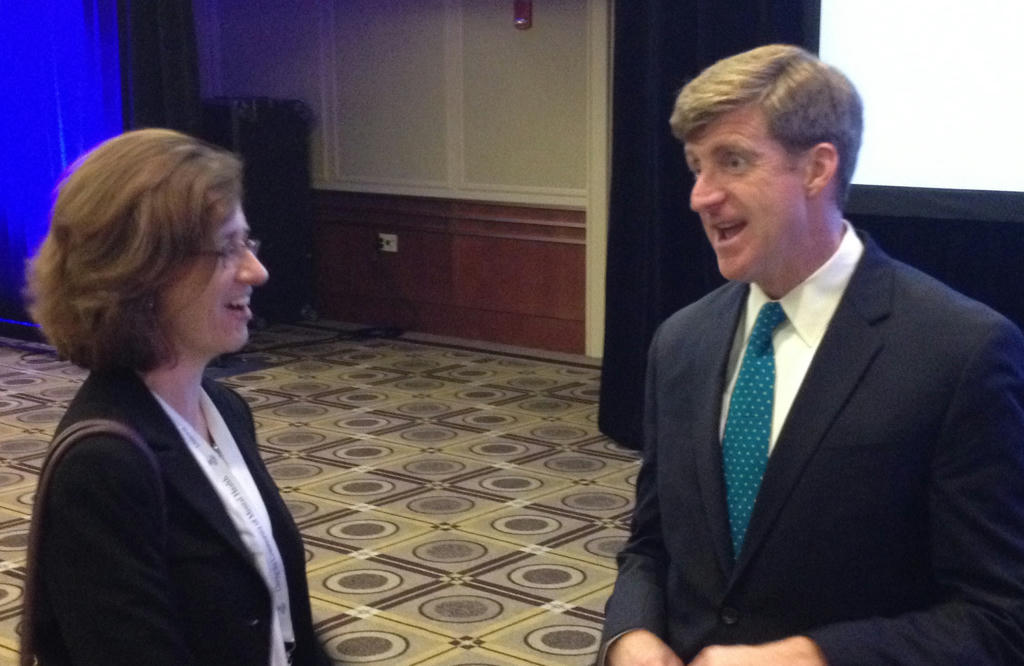 On October 24th, mental health advocates, thought leaders, and policymakers gathered in Boston to participate in The Kennedy Forum Inaugural Conference, convened to commemorate the 50th anniversary of President Kennedy's signing of the Community Mental Health Act, and engage in dialogue and planning for next steps for public policy.
Julie Totten, President and Founder of Families for Depression Awareness (FFDA) (pictured with former Rep. Patrick Kennedy), and FFDA's Director of Programs and Marketing, Susan Weinstein, attended to represent the interests of families in the advocacy arena. Prior to the conference, Weinstein remarked, "We are excited to be participating in The Kennedy Forum!"
"We will bring the concerns and experiences of families to the discussion about improving mental health care. Families are essential stakeholders: parents and spouses are often the ones grappling with the health care system, engaging with providers, securing insurance coverage, and making sure family members are safe. It's critical that we be at the table, and we'll make good use of this opportunity."
The purpose of the conference is to advance the national conversation on mental health policy, parity, and stigma. Vice President Joe Biden and Health and Human Services Secretary Kathleen Sebelius will be in attendance. Chelsea Clinton, vice chair of the Clinton Foundation, will also moderate a panel discussion.
FFDA is providing more information about the conference in the coming days and posting photos on our Facebook page.
Lend your voice to the ongoing discussion of mental health care access and parity at Care For Your Mind, a collaboration of FFDA and the Depression and Bipolar Support Alliance.